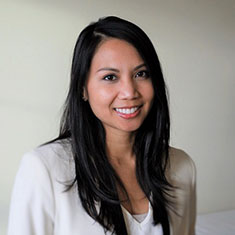 Christina Aguila is an international development professional with a background in enterprise development and economic growth. As a Senior Analyst with DAI's private sector practice, she provides program design services, technical analysis and implementation, and project management for multinational energy companies, trade associations, and government clients engaged in corporate social responsibility and local content strategies. Her work has involved launching new training products and designing programs for supplier development and entrepreneurship initiatives, organizing trade missions, and conducting competitiveness assessments for small and medium businesses.
Prior to joining DAI, Christina researched industry trends and supported a program on business improvement opportunities for small and mid-size manufacturers at the University of Michigan. She has lived in Indonesia while serving as a Fulbright teaching fellow and has worked with United Nations agencies, the U.S. Department of State, and various nongovernmental groups on strategic initiatives and partnerships.
M.P.A., New York University
B.A., international studies, University of California, San Diego
x
RELATED CONTENT:
Patrick Henry is Vice President of DAI's Sustainable Business Group, leading the data-driven approaches to design unique solutions that bridge the gaps for clients in supplier development and responsible business solutions.
Read More