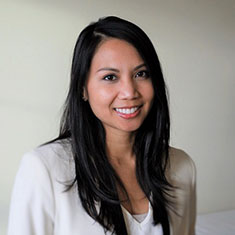 After beginning her career in international education and exchange, Christina Aguila returned to graduate school where she became interested in economic development. Her focus on private sector engagement and environmental and social sustainability led her to work with DAI's Sustainable Business Group, where she supports project management, business development, and technical analysis for corporate social investment projects and local content strategies.
Prior to joining DAI, Christina worked at the Economic Growth Institute at the University of Michigan, where she researched industry trends and economic growth opportunities for public- and private-sector audiences engaged in manufacturing. She also served as a Fulbright teaching fellow in Indonesia and worked on development projects and strategic partnerships for agencies of the United Nations, the U.S. Department of State, and various nongovernmental organizations.
M.P.A., New York University
B.A., international studies, University of California San Diego
x
RELATED CONTENT:
As Operations Manager for DAI's Sustainable Business Group, Christine Traylor develops and implements new processes that help the group streamline key business functions.
Read More