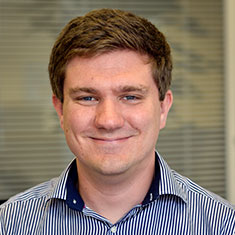 Chris Rose is a Project Director for Climate Change and the Environment with DAI's EU business. He is responsible for managing and overseeing a portfolio of climate and environment programmes funded by the EU, as well as contributing to thought leadership on climate change, the environment, and clean energy access.
Chris has more than ten years of experience providing technical expertise on programmes commissioned by the European Commission; the Foreign, Commonwealth, and Development Office (FCDO); and the U.K. Department for Environment, Farming, and Rural Affairs. He also supports business development and programme management across climate change, environment, and renewable energy.
Chris possesses broad thematic experience, having spent five years of his early career supporting the LIFE Programme—the European Union's fund for nature, environment, and climate change. He subsequently addressed issues including climate change mitigation and adaptation policy; off-grid and distributed renewable energy access, governance, markets, and finance; and ocean plastic pollution, among others. Chris plays a critical role in supporting DAI's internal ISO14001 accredited Environmental Management System and Science Based Target setting initiative.
x
RELATED CONTENT:
Jeremy Keeton is an environmental and water resources management professional with 19 years of experience—including 10 years in developing countries in Africa, Asia, and South America.
Read More