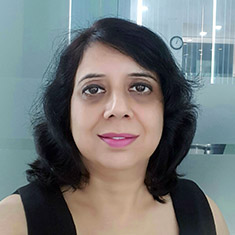 Chetna Chawla is Technology Director of Global Health and has more than 20 years' experience in technology consulting, delivering high-impact electronic governance programs. She has experience in health informatics solutions for donors and nongovernmental organizations. She served as Program Director to the U.S. Government's Health Information Policy and Advocacy Project in Cambodia, strengthening the quality and relevance of health data available for decision-making and supporting the Royal Government of Cambodia's Decentralization and Deconcentration initiative.
Chetna also led several national strategic and health initiatives in India in rural health, AIDS, leprosy, and malaria, covering program implementation, IT-enabled reporting and monitoring tools including health information systems, dashboards, GIS, and mobile interventions. She was involved with several central and state health departments in defining their strategies and implementing interoperability between various health systems integrated with national health systems.
B.A (Hons), economics, University of Delhi, India
Post-Graduate Diploma, systems design and development, National Institute of Information Technology, Delhi, India
x
RELATED CONTENT:
Trevor's eclectic professional background encompasses technology, electro-mechanical engineering, software development, data analytics, and musical performance.
Read More