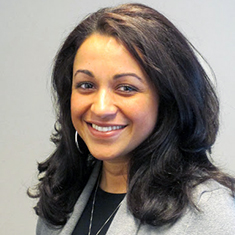 Chantal Agarwal is a Senior Governance Specialist, focused on strengthening crime and violence prevention, promoting accountability and oversight, increasing access to justice and human rights, and supporting institutions to provide equal application of the law for all.
Chantal's interest in governance was sparked during a work trip to Caracas, Venezuela, that coincided with regional legislative elections. After observing an opposition rally and subsequently working with local mayors and political party leaders to plan and implement public policy initiatives, Chantal realized this was where she would focus her career.
In the 15 years prior to her work with DAI, Chantal designed and managed several private and U.S. Government programs in the Dominican Republic, Haiti, Mexico, and Peru, working to support justice and security sector institutions and empower civil society to strengthen the rule of law.
Of Italian and Indian descent, Chantal speaks French, Italian, and Spanish.
M.A., international affairs, The Elliott School for International Affairs, George Washington University
B.A., Latin American studies, University of Maryland at College Park
x
RELATED CONTENT:
Jeremy Kanthor's interest in governance started during a high school trip to Dakar, Senegal, that coincided with presidential elections. After observing an opposition rally and getting caught between opposition supporters hurling rocks and police using tear gas, he was quickly ushered into the home of the leading opposition candidate, Abdoulaye Wade.
Read More