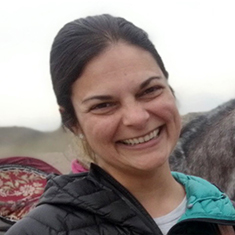 Celestine Procter is Principal Global Practice Manager in DAI's Conflict, Stabilization, and Peacebuilding practice. She has more than 19 years of experience in stabilization and peacebuilding program design, implementation, and management in conflict and post-conflict settings. She specializes in conflict analysis, management, mitigation, and conflict sensitivity as cross-cutting themes for a variety of sectoral programming, including security reform, civil society engagement, governance, basic service delivery, and multi-sectoral stabilization programming.
Celestine has a diverse background providing strategic advisory services to small and medium businesses in the United Kingdom and the United States, in technical program design for conflict programming, new business development, and organizational change management. She has served as Chief of Party for programs in Afghanistan, Libya, and Syria. Previous field experience includes technical and managerial positions for the U.S. Department of State, U.S. Agency for International Development, U.K. Foreign, Commonwealth & Development Office in Afghanistan, Iraq, Libya, South Sudan, and Syria. She has also worked for the United Nations on reintegration. Prior to that, her work in international development started with nongovernmental groups in the humanitarian sphere working in Sudan on human rights, camp management, and basic service provision.
M.A., international law and human rights, University of London
B.A., Arabic, University of London
x
RELATED CONTENT:
Lindsay North has more than 10 years of experience in design, research, monitoring, evaluation, and learning for conflict, peace, and stabilization programs.
Read More