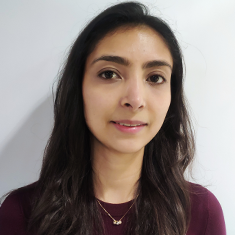 Carolina Bernal is an Associate Analyst in DAI's Sustainable Business Group, where she uses her experience in qualitative and quantitative analysis to support a portfolio of projects in business sustainability, innovation and entrepreneurship, and local content requirements.
Prior to joining DAI, Carolina co-designed an ESG index for the Bogota Chamber of Commerce to assess the corporate sustainability performance of micro and small enterprises in Colombia. She has also worked in the international trade sector for two years, providing procurement services to facilitate import and export operations between Asia and Latin America.
Her previous research has focused on the impact of foreign trade and investment on sustainable development.
M.Sc., development management, London School of Economics
B.Sc., finance and international relations, Universidad Externado de Colombia
x
RELATED CONTENT:
Barbara Habib is a Senior Manager for DAI's Sustainable Business Group and Project Director for its Enterprise Development Center in Mozambique. She is a development professional with more than 13 years of experience managing and implementing economic and community development projects.
Read More