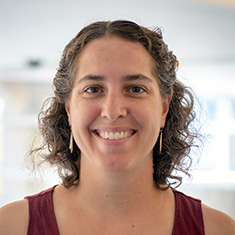 Carmen Tedesco became a geographer after finding other fields of study too limiting. "I was interested in infectious diseases, land management, and global climate change," she said, "but wasn't finding the right angle until I took my first geography course—then it all made sense."
Carmen now has 15 years of experience as a geographer, specializing in human-environmental interrelationships, geospatial technologies, and climate change. She is a translator of technology, assisting others in finding innovative solutions through the use of spatial tools and data systems. "I've had some intense experiences—from volcano tracking at the Alaska Volcano Observatory, to having stern public debates with the U.S. Forest Service, to working with district forest rangers in Nepal and Bhutan to improve a forest fire warning systems," she said. Carmen has served as Senior Lead for Program Demand on the SERVIR project, a U.S. Agency for International Development and National Air and Space Administration partnership where she led the user engagement and knowledge management of large geospatial systems. As part of the Climate Change Team at DAI, Carmen worked with projects and proposal teams, serving as a geospatial advisor, and supporting technical needs.
Carmen is now the Data and Technology Lead for DAI's Managing for Development Results team, leading a team of data scientists focusing on developing data systems that will help DAI better track our project results and empower projects to achieve greater impact.
M.A., geography, University of Illinois Urbana-Champaign
B.A., geography, Middlebury College
Founder, Vermont International Development Network
x
RELATED CONTENT:
Richard Rapier for 15 years has worked in domestic and international programs addressing water, sanitation, and hygiene (WASH), water and waste resource management, and environmental and social impact assessment and management in infrastructure.
Read More