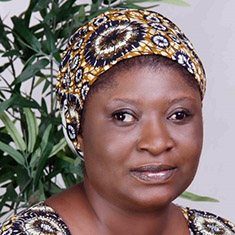 Blessing Musa Stephen is a global health practitioner with a multidisciplinary background of expertise in pharmacy, public administration, management, and health economics, and more than 10 years of experience in the health development sector in Nigeria.
Blessing previously served as DAI's Health Systems Advisor on the Integrated Approach to Neglected Tropical Diseases (UNITED) programme, supporting the Nigerian government's efforts to reduce the prevalence and interrupt the transmission of seven neglected tropical diseases in five states. Prior to that, she worked at the Association for Reproductive and Family Health, where she managed the malaria programming funded by The Global Fund to Fight AIDS, Tuberculosis, and Malaria, Round 8, in Niger State, Nigeria. She supported the establishment of support systems to states and local governments and scale-up service delivery of the malaria elimination project.
M.P.A., NDA Post Graduate School, Kaduna
B.S., pharmacy, University of Jos, Nigeria
x
RELATED CONTENT:
Elodie Brandamir has more than 15 years of experience managing public health programs in challenging environments.
Read More