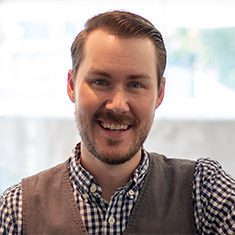 Ben Mann considers himself an "enlightened" engineer, leaving behind a formal training in domestic engineering and data analysis for the exciting adventures of international development projects. He has toured through an array of organizations over the span of his career, from nongovernmental organizations to academics to implementers. These experiences helped him develop a wealth of expertise in a variety of implementation approaches, research and analysis methods, and funding mechanisms.
Ben oversees efforts to improve project results through better monitoring, evaluation, knowledge management, and learning, as well as the systems that support them. He works to ensure that we exceed our client expectations and our own goals for collecting, understanding, and utilizing our results to deliver better technical assistance on our global projects.
M. Eng., engineering and public policy, University of Maryland
B.S., civil engineering, Clemson University
x
RELATED CONTENT:
Rémy Kormos has more than 25 years of experience in international business law, implementing business environment reform, commercial law, and judicial reform in developing and transitioning countries.
Read More