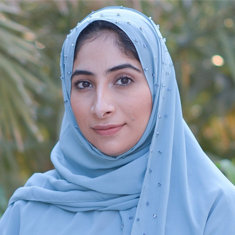 Athab AL Shuhoumi is an Analyst in DAI's Sustainable Business Group, based in Oman. She's a corporate social investment programme design and implementation specialist. Athab conducts research and provides analysis for reports. Athab leverages six years of work experience in assisting the technical delivery of corporate social responsibility and innovative education projects for various clients including governments and private and public corporations across energy, financial services, and telcos.
Athab led the technical delivery of innovation and STEAM curriculum with the Ministry of Education and Ministry of Culture, Youth and Sport.
Prior to joining DAI, Athab worked as a learning analyst in Engineering for Kids, where she designed and delivered CSR projects.
BSc. in Physics from Sultan Qaboos University.
x
RELATED CONTENT:
Christina Aguila provides program design services, technical analysis and implementation, and project management for multinational energy companies, trade associations, and government clients engaged in corporate social responsibility and local content strategies.
Read More