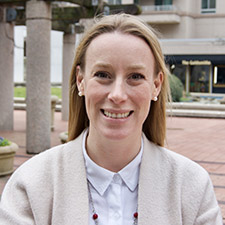 Annie Baldridge has a background in law and public health and has been working in international development for the last eight years. After earning a law degree from Tulane University in New Orleans, Louisiana, she was planning to work in Washington, D.C., on domestic health policy but was presented with an opportunity to work in Afghanistan on health finance topics and quickly dropped plans to work in the United States to peruse the adventure in Afghanistan.
She has been working internationally on health finance and public financial management ever since—in eight countries in Africa and five in the Middle East and Asia. After three years of working for a U.S. Agency for International Development contractor, Annie started a small business in Zambia working directly with the government on public financial management, and pharmaceutical supply chain issues. She joined DAI after consulting with the company for two years and is now is a senior global practice specialist on the DAI Global Health team.
J.D., Tulane University
M.A., public health, Tulane University
x
RELATED CONTENT:
Dr. Rodion Kraus is a Senior Technical Adviser for DAI Global Health and the Project Director for the Tackling Deadly Diseases in Africa Program (TDDAP), which works in six countries to strengthen health systems and institutions to deliver better health security and improve disease preparedness and response.
Read More