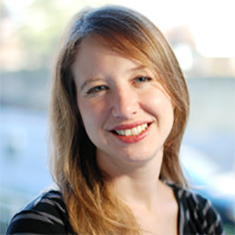 Angie Quintela is an education and governance specialist with a cross-cutting focus on gender and inclusion, and is a founding member of DAI's education practice. Angie has helped to design and lead a wide range of activities, including supporting youth training and exchange programs, youth leadership development and citizen engagement programs, with a particular focus in working in complex and politically sensitive contexts in Africa, Asia, and the Middle East.
She has also supported the innovative use of technology in learning, with experience in using online learning and knowledge sharing platforms. Currently, she manages a governance program in Africa that is working to better engage local communities in education management. Angie first became committed to global education and development as a Peace Corps teacher with direct classroom experience as a language teacher, and in designing and running youth life-skills programs.
Angie has been certified in project management in development, and has substantial experience in every aspect of project management from design to startup to close-out, including in developing and managing project monitoring and evaluation and ensuring knowledge sharing across programs. Angie comes to DAI from the Academy of Educational Development and FHI 360.
MALD, international affairs, The Fletcher School, Tufts University
B.A., anthropology, The College of William and Mary
x
RELATED CONTENT:
Zehra Zaidi is the Director for Education in DAI's Europe office and has designed and led programmes focused on education, innovation, governance, and social entrepreneurship.
Read More