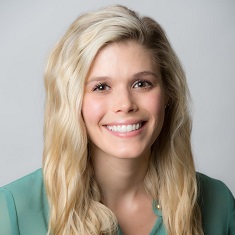 Amy Fisher is an international development professional with a background in economic growth and gender inclusive programming. As Associate Manager for DAI's Sustainable Business Group (SBG), Amy supports the financial and operational structures of SBG's business unit, in addition to supporting project management across SBG's portfolio of projects. Amy now oversees the operational build out of DAI's first corporate office in the Middle East, based in Muscat, Oman, where she manages the development and implementation of operations and finance policies and processes.
Prior to joining SBG, Amy worked in DAI's Business Development Unit, where she supported technical and commercial proposals related to economic growth and the environment for the United States Agency for International Development. Amy has experience working in numerous countries, including Bangladesh, Guatemala, Oman, Ukraine, and Vietnam.
M.A., international affairs and economics, Johns Hopkins University School of Advanced International Studies
B.A., international relations, University of California, Davis
x
RELATED CONTENT:
Carolina Bernal supports a portfolio of projects in business sustainability, innovation and entrepreneurship, and local content requirements.
Read More