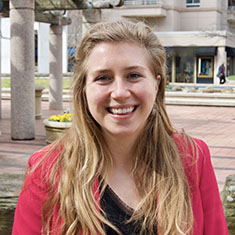 Alyssa Menz entered college intending to pursue dual degrees in environmental biology and cultural anthropology until she discovered the field of international development, which married her interests in environmental sustainability and socio-economic equity. While conducting research in Israel, Jordan, Kenya, Turkey, and the West Bank during her undergraduate and graduate pursuits, she gained firsthand exposure to issues and challenges related to ecological conservation, conflict resolution, community engagement, and the extractives sector, furthering her interest in multi-stakeholder dialogue processes, local content, and the role of the private sector in development.
Prior to joining DAI, Alyssa worked with Synergy Global Consulting, where she supported research and analysis on environmental and social policy issues related to global hydropower projects, social responsibility in the mining sector, and community trusts tied to renewable energy sources.
As part of DAI's Sustainable Business Group, she specializes in local content policy development, stakeholder engagement, and local content implementation and compliance in the context of the oil and gas, mining, and infrastructure sectors. She has advised both private sector clients and governments on issues around leveraging investment in the extractives sector for local socio-economic development in Sierra Leone, Ghana, and Mexico.
Alyssa oversees development and roll-out of two of SBG's local content product lines: the Local Content Master Class and the Local Content Plan and Reporting (LCPR) Platform, both of which focus on building local content knowledge and streamlining productivity for oil and gas companies. At SBG she has cultivated field experience co-training representatives from the private sector, Ministry of Economy, and Local Content Agency in Sierra Leone on local content reporting and analysis; co-facilitated local content training for the Ghana Petroleum Commission to build capacity of the regulatory authority; and analyzed local supply chain capabilities for the hydrocarbons sector in Mexico.
M.Sc., nature, society, and environmental governance, University of Oxford, UK
B.A., sustainable development, Columbia University
x
RELATED CONTENT:
As part of DAI's Sustainable Business Group, Haaniah Hamid provides technical and development support for the Local Content Plan and Reporting platform.
Read More