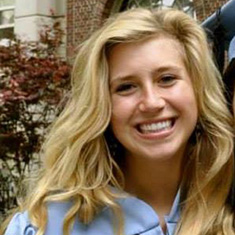 Alyssa Menz is a Lead Analyst in DAI's Sustainable Business Group (SBG) specializing in sustainable development, entrepreneurship and innovation, local content, and global supply chain development. Throughout her SBG tenure, she has worked on projects related to energy transition; enterprise development center (EDC) design and implementation; corporate local content strategy design; government local content policy development; local content reporting, tracking, and quantitative analysis; industrial baseline studies; and corporate social investment initiatives.
Alyssa currently serves as Technical Lead for the global advisory team with Shell LiveWIRE, a flagship entrepreneurship program supporting the design, training curriculum development, mentorship, and impact investor engagement for a network of global accelerators and pre-accelerators focused on cleantech, agribusiness, and local content. Alyssa previously served as the Technical Lead for the Mexico—Prosperity Fund Mexico Energy Programme, a four-year project funded by the U.K. government aimed at generating inclusive, socio-economic growth in Mexico's energy sector and transitioning Mexico to a low-carbon economy. Alyssa also oversaw development and roll-out of the Local Content Master Class, a three-day course geared at enabling operators, contractors, and government to leverage local content in a way that maximizes benefits and minimizes risk. She has co-taught the Local Content Masterclass in Ghana, Sierra Leone, Tanzania, United Kingdom, and the United States. Alyssa is a lead analyst for two local content quantitative tools: the DAI Local Content Plan and Reporting Platform—an online tool for local content reporting, tracking and monitoring across procurement, workforce, and capacity development—and the Local Content Optimization Model—an online tool that forecasts baseline and maximum local content within suppliers and workforce across supply chains.
Prior to DAI, Alyssa worked with Synergy Global, an international sustainability consulting firm specializing in social impact and risk assessment, community relations management, social baseline studies, and community benefit creation.
M.Sc., nature, society, and environmental governance, University of Oxford, UK
B.A., (hons) sustainable development, Columbia University
x
RELATED CONTENT:
Amanda Ryan specializes in local content for the mining and oil and gas industries and supports data and policy analysis, project management, and business development for DAI's Sustainable Business Group.
Read More