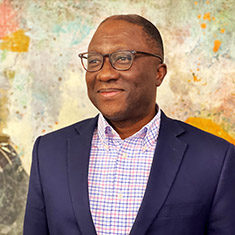 Alid Camara is a Senior Lead Specialist at DAI, leading program design and technical delivery assignments within the public financial management (PFM) practice of the Governance sector. He also supports other practices on initiatives that intersect public finance and economics—such as tax compliance, urban development finance, service delivery partnerships, climate finance, business environment and competitiveness, and blended finance.
Alid's recent assignments include assessing the effectiveness of public health expenditures in Zambia and Tanzania, infrastructure financing in the Philippines, and tax incentive strategies to promote foreign and domestic investment in Indonesia and the United States. Beyond international development, Alid has provided advisory services to corporations and investment mechanisms such as special purpose vehicles for due diligence, risk management, partnership development, and project structuring in emerging markets and middle- and low-income economies.
Before joining DAI, Alid served as a consultant to multilateral development banks, and he has held full-time staff positions or retainer agreements with U.S. government contractors and multinational companies conducting business across borders. His previous roles and positions included senior director, chief of party, principal advisor, lead advisor, and technical specialist, and he has worked in 37 countries and visited many more. Outside of work, Alid is passionate about philanthropy and ideas that scale up child adoption and educational opportunities in low-resource environments in the United States and abroad.
M.B.A., Massachusetts Institute of Technology
MSc., London School of Economics
B.A., BSc., University of Maryland, College Park
x
RELATED CONTENT:
Zehra Zaidi is the Senior Director, Human Development for DAI's UK and Europe units and has designed and led programs focused on education, innovation, governance, and social entrepreneurship.
Read More