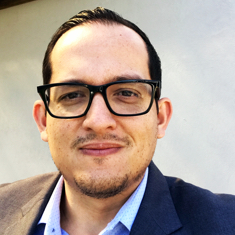 Among his current projects, Alejandro is developing a regional climate information center called Centro Clima, a coffee farmers' and technicians' solution called Coffee Cloud, a climate information platform for fisheries called Clima Pesca, and a tool for small hydroelectric generators called Hidro Clima. To his DAI portfolio, Alejandro brings extensive experience working on development projects across Central America and the Caribbean. Prior to joining DAI, Alejandro implemented projects for the Inter-American Development Bank, NASA, and the World Bank, addressing climate change and the application of information and communication technologies (ICT) to environmental problems. In 2015, he was nominated as an MIT "Innovators Under 35" candidate in Central America. Alejandro's commitment and dedication derive from his strong desire to improve and simplify technologically advanced systems to create better user experiences, leading to greater adoption of ICT tools and services.
P.M.P., Project Management Institute
B.A., forest engineering, Instituto Tecnológico de Costa Rica
x
RELATED CONTENT:
With a consistent focus on the integration of user-centered design in digital development, Talia conducts digital strategic analyses, manages digital projects, and supports the Center for Digital Acceleration in its innovation work, for example by managing the implementation of digital prizes and challenges.
Read More