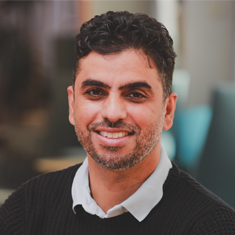 Ahmed Al-Abri is a Senior Manager for DAI's office in Oman, providing project management, technical support, client relationship management, and business development. Ahmed leverages more than 15 years of international work experience in the oil and gas industry and experience working in several countries, including Kuwait, Oman, Qatar, Saudi Arabia, and the United Arab Emirates. Prior joining DAI as full-time employee, for 10 months, Ahmed was working for DAI in Oman as a Senior Consultant, providing technical support to DAI projects there. Previously, Ahmed worked as a Deputy Managing Director for NAFAS International, a consultancy related to technology, innovation, and business improvement for various sectors, including oil and gas. Prior to that, Ahmed spent a decade with Baker Hughes in various positions ranging from engineering to working as the Operations Manager in Oman where he oversaw multimillion-dollar projects through supervising activities of service and technical personnel via job assignment, project management, administration, and technical support; monitoring daily progress of jobs and rig activities, providing technical guidance, and work direction to field staff.
B.Sc., geophysics, Sultan Qaboos University
x
RELATED CONTENT:
Louise Flynn leads DAI Sustainable Business Group's (SBG) health, safety, security, and environment programs globally.
Read More