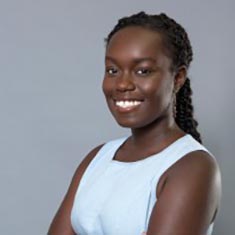 Afua Owusu is an experienced strategic communications professional with a background in entrepreneurship and small business development. Before joining the Center for Digital Acceleration (CDA) in DAI, Afua worked with local and federal government stakeholders and non-profit clients in the advocacy realm to cultivate and maintain stakeholder coalition-building and relationship management. She also provided in-depth communications strategy and project management support to institutions like the American Public Health Association, the Association for Public Health Laboratories, and the Alzheimer's Association.
Before joining DAI in June 2021, Afua was the Co-Owner of Pleasant Pops Café & Market in Washington, D.C., While at Pleasant Pops, Afua co-managed the budget across marketing, labor, and maintenance costs; conducted market research; and directed brand repositioning via partnerships to diversify new business opportunities.
At DAI, Afua provides administrative and technical support to CDA initiatives, including new business efforts, new client projects, thought leadership, and knowledge management.
B.S., family science, University of Maryland, School of Public Health
x
RELATED CONTENT:
As a Digital Specialist at DAI's Center for Digital Acceleration, Inta Plostins works at the intersection of digital tools and development.
Read More