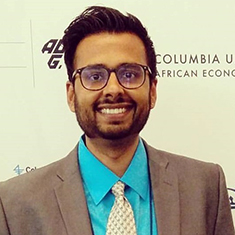 As an Indo-Zambian from Lusaka, Adi Subramanian-Montgomery's passion for international development was born out of an all-consuming desire to both address the challenges and unlock the potential of his country and its people. Combining a background in engineering and sustainable development, he has dedicated his career to addressing the economic, social, technological, and infrastructural challenges of the developing world.
Adi is now a Senior Research Analyst with the Sustainable Business Group (SBG), conducting data-rich analysis, and developing products, services, and methodologies for an international portfolio of clients on climate change, infrastructure, and private sector energy projects. His areas of focus include strategic advisory in emerging and frontier markets, economic impact assessment, corporate social investment, and local content-driven supply chain management. He has previously worked for intergovernmental agencies, nonprofit organizations, and private sector firms, including Deloitte UK, the UN World Food Programme, the Earth Institute, and the World Bank.
MPA, development practice, Columbia University
B.Sc., mechanical engineering, Texas Tech University
x
RELATED CONTENT:
Zaki Raheem is private sector development specialist, where he engages in market assessments that look to link micro-, small-, and medium-sized enterprises and producers to growing markets.
Read More