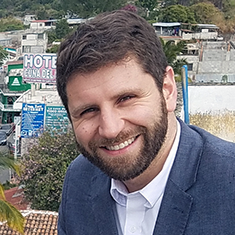 Adam Fivenson is a human-centered design specialist and innovation strategist at DAI's Center for Digital Acceleration. His work spans the intersection of technology, data, and design and centers on participatory approaches to design in frontier markets. Adam led the design and development of the award-winning MiMuni transparency and citizen engagement platform in Guatemala, and is currently forking the open source code and human-centered design approach to Kabul and four other Afghan municipalities. He has led ethnographic field research missions—DAI's Frontier Insights methodology—in countries around the globe, exploring the impact of new technology and changing information flows, and has trained Cambodian social entrepreneurs and civil society organizations in lean approaches to innovation, user research, and design. His work has been featured on This is HCD, ICTWorks, and [email protected]. Outside of DAI, Adam teaches lean approaches to human-centered design for international development at Georgetown's School of Foreign Service, and co-hosts D.C.'s Technology for Democracy Happy Hour and Human-Centered Design for Development Meet-up. He lives in Washington, D.C., with his wife and daughter.
M.A., foreign service, Georgetown University
B.A., communications, University of Michigan
x
RELATED CONTENT:
Jeremy Kanthor's interest in governance started during a high school trip to Dakar, Senegal, that coincided with presidential elections. After observing an opposition rally and getting caught between opposition supporters hurling rocks and police using tear gas, he was quickly ushered into the home of the leading opposition candidate, Abdoulaye Wade.
Read More