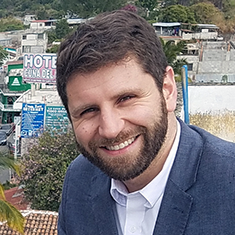 Adam is a user research and digital design specialist. His approach to design is based on empirical experience with users in the frontier markets where DAI operates. In his Frontier Insights research in Cambodia, El Salvador, Guatemala, Honduras, Indonesia, and Rwanda, he has explored the uptake and impact of smartphones, data, and new technologies in both rural and urban areas. Since early 2016, Adam has worked with the community of Chiantla, Guatemala to design and launch Somos Chiantla, an award-winning mobile app for budget transparency and citizen engagement. Currently, Adam is guiding two communities in Guatemala through a community-centered design process, assisting them to create their own mobile apps for budget transparency and citizen participation; and he is working with nonprofits in Cambodia to spin up digital development concepts. Prior to joining DAI, Adam was a Peace Corps volunteer in the Dominican Republic, where he ran a computer school for youth in the capital, Santo Domingo. Before that, he worked in digital marketing in New York City and New Delhi.
M.A., foreign service, Georgetown University
B.A., communications, University of Michigan
x
RELATED CONTENT:
Anand Varghese helps DAI's projects integrate ICT into their activities and build partnerships with local technology companies.
Read More