Kenya—NiWajibu Wetu (NIWETU)
Kenya is one of Africa's longest-running democracies, a regional economic powerhouse, and a critical ally in the fight against violent extremism. After Kenyan troops entered Somalia in 2011 under Operation Linda Nchi ("Protect the Country"), the terrorist group al-Shabaab and its Kenyan affiliate al-Hijra reacted by carrying out attacks on public spaces in Kenya. The violent extremist groups have also attempted to create a schism between Christians and Muslims and manipulate underdevelopment and perceptions of marginalization to fuel their victimization narratives and recruit disenfranchised individuals to their cause.
In response, the Kenya NiWajibu Wetu (NIWETU) activity was launched by the U.S. Agency for International Development to reduce violent extremism among at-risk individuals and communities in Kenya. "NiWajibu Wetu" is a Kiswahili phrase meaning "it's our responsibility," and is inspired by verse two of the Kenya National Anthem and the 2010 Constitution of Kenya. The activity will empower communities and government institutions to take the lead in preventing/countering violent extremism (P/CVE). NIWETU will work to address the root causes of violent extremism by fostering a sense of unity and tolerance among individuals, communities, and civil society groups, as well as catalyze their connections with government institutions at the county and national levels.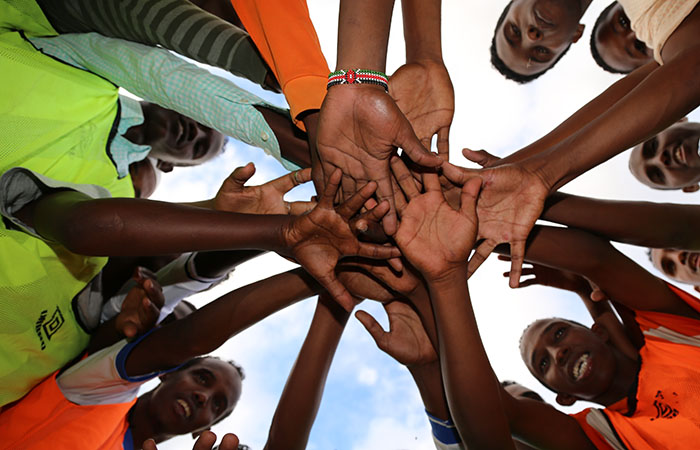 Participants of CVE mentorship program for youth football teams put on by the Supreme Council of Kenyan Muslims with support from NIWETU. The month-long mentorship program provides youth with a safe and productive space to talk about violent extremism, radicalization, leadership, and social action.
Sample Activities
Enhance the capacity of community leaders and groups to work effectively with one another across ethnic and religious lines.
Help local community organizations detect early signs of radicalization and address them before they escalate to recruitment.
Support government officials at the national and local levels with P/CVE capacity building.
Partner with national government stakeholders, such as the National Counter-Terrorism Centre and the Directorate for Peacebuilding and Conflict Management, to build better relationships and trust between communities and the government.
x
RELATED CONTENT:
Asegurando la Educación works to improve schools' ability to prevent violence, strengthening local networks that increase school safety, and building the capacity of the Ministry of Education and social service agencies to respond to school-based violence.
Read More