September 25, 2017
Last year, DAI employees raised $6,882 through fundraising events for the Linda Norgrove Foundation to benefit Ascend, a woman's empowerment program in Afghanistan. Ascend develops the leaderships abilities of young Afghan women by teaching mountaineering skills and supporting their community service.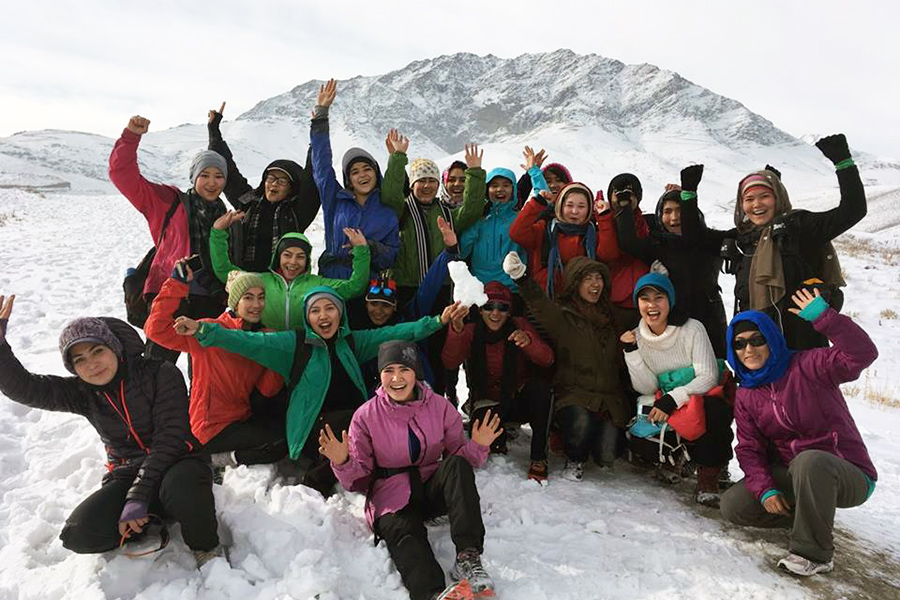 The women of Ascend's 2016 team will take an alumni trip together this year to a snowy summit near Kabul.
Each year, Ascend trains a new group of women, ages 15 to 23, beginning with intense workouts and climbing lessons six days a week. Mountaineering skills are complemented by lessons on trauma resiliency, team building, self-esteem, and conflict resolution. The program culminates with the women testing their new skills on excursions with increasingly difficult climbs. Each member of the Ascend team also spends two days per week volunteering in their community, such as working at a center for street children or an animal shelter, or teaching literacy in a women's resource center.
As mountaineering is primarily considered a men's activity in Afghanistan, Ascend's climbing team challenges traditional gender roles in Afghan culture while also breaking new ground in the sport. When climbers from the group scaled a 16,000-foot peak in the Panjshir valley two years ago, they were thought to be the first climbers ever to reach the summit, and took the honor of naming it. The field expeditions are often the first time that the women have spent a night away from home, and many find that mountain climbing provides a sense of independence and self-confidence that is not generally fostered among females in Afghan society.
"Each of these girls becomes an agent of change," said Marina LeGree, Ascend's founder. "You simply cannot tell a woman who has climbed these mountains to take off her pack, put on a burqa, and spend the rest of her life indoors, hidden from the world."
The Linda Norgrove Foundation was established after the death of Linda Norgrove, a DAI employee who was kidnapped September 26, 2010, in Kunar Province, Afghanistan, and died 12 days later during a rescue attempt by U.S. forces. Norgrove was working on the Incentives Driving Economic Alternatives for the North, East, and West Program.
Since its beginning, the foundation has distributed more than £1 million to almost 50 projects that help women and children affected by the war in Afghanistan. Every year, DAI works with the foundation to choose a beneficiary organization for its fundraising campaign, with 2017 contributions going toward scholarships for female medical students in Kabul.
In addition to fundraisers being held worldwide, this year's fundraising activities by DAI include food and drink sales, a causal wear Friday, a penny collection competition, and the annual Linda Norgrove Foundation 5k walk/run, to be held Saturday, September 30. Register here to join us this year.