WomenConnect Proud to Join White House Launch of Women's Global Development Initiative
February 08, 2019
On February 7, President Trump signed a National Security Presidential Memorandum launching the Women's Global Development and Prosperity Initiative, or W-GDP, a whole-of-government effort to help 50 million women in developing countries realize their economic potential by 2025.
Honored to participate in the signing ceremony was Lillian Achomo (pictured between Ivanka Trump and USAID's Mark Green), Project Manager at AFCHIX. AFCHIX is a grantee of the WomenConnect Challenge, a global call for solutions to improve women's participation in economic and social life by changing the ways women and girls access and use technology.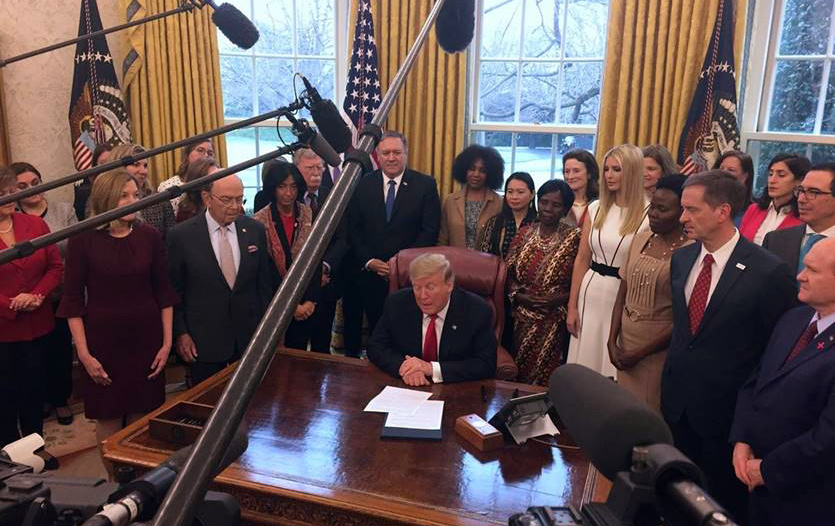 photo: C-SPAN
The new W-GDP initiative establishes a fund at the U.S. Agency for International Development (USAID) to support projects that help women succeed in the economy, with an initial allocation of $50 million and an initial focus on workforce development, entrepreneurship and access to capital, and policies, laws, and social norms that promote women's economic participation.
"WomenConnect aligns directly with the objectives of this new initiative," said Katie Shipley, who leads the USAID Digital Frontiers project that administers the WomenConnect Challenge. "WomenConnect is addressing the gender digital divide by identifying and accelerating comprehensive solutions that empower women and girls to drive positive health, education, and livelihoods outcomes for themselves and their families."
"We are delighted that Lillian was able to attend the signing because her work with AFCHIX speaks to the transformational impact of women's empowerment," said Shipley.
AFCHIX creates opportunities for rural women in Kenya, Morocco, Namibia, and Senegal to operate local internet service providers and work as network engineers. Not only does it improve connectivity and build the capacity of communities to establish and maintain telecoms infrastructure—it helps women establish their own companies, provides essential services, and positions women as role models in their communities.
x
RELATED CONTENT:
DAI today announced the appointment of Zan Northrip to lead three business units that focus on serving international development donors. In this newly created position—Executive Vice President, Development Partners Group—Northrip will ensure that DAI is generating and capturing synergies across its U.S., U.K., and European operations, and applying the best of each client's practices to the broader donor-focused portfolio.
Read More