September 29, 2020
DAI employees fundraised $5,153 through company activities in 2019 for the Linda Norgrove Foundation to support a school in Afghanistan's Bamyan province. The foundation—a trust that gives grants to support women and children in Afghanistan—provided the rural Rustam School with a reliable water supply and basic educational necessities.
Rustam School is an outliner among schools in Afghanistan, where only one in four of girls attend secondary school (versus two in four boys). At Rustam, 330 of the 476 students are girls. More than 90 percent of the school's graduates go on to college, despite most coming from families with illiterate parents.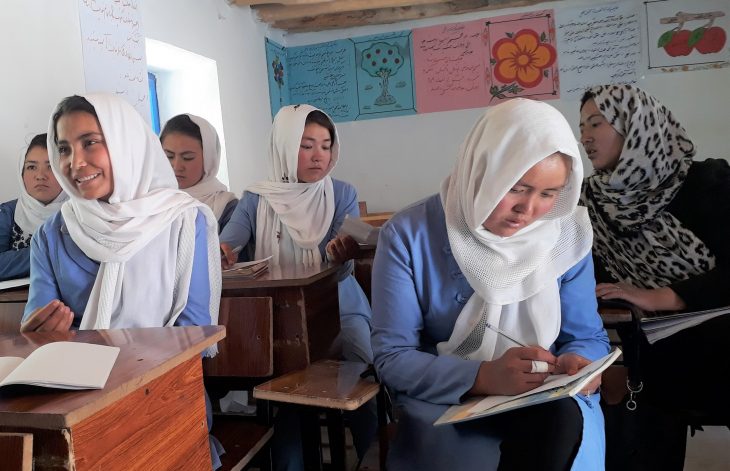 Rustam School is in the Yakawlang district of Bamyan province, home to the Hazara ethnic minority.
In 2019, the New York Times profiled the school's success despite its low resources: seven unheated classrooms and six tents, where students sit directly on concrete floors. Many children walk more than an hour to school over harsh terrain. U.K. charity Action Aid supported Rustam School for four years, with strong results, but the Linda Norgrove Foundation team determined that the school could benefit from further support.
DAI's $5,153 provided the school with a water supply and classroom essentials such as a printer, panel batteries, stationery, and rugs for students to sit on. Local community members volunteered to dig trenches for the donated water pipe, connecting a mountain spring to the school. Now, students have access to safe water for handwashing and drinking—especially important to maintain good sanitation during the COVID-19 pandemic.
DAI employees raised funds through company events, including an Executive Happy Hour (where DAI executives created their own cocktails), Tone-Up Tuesday dance lessons, Penny Wars, and its annual 5K run/walk.
The Linda Norgrove Foundation was established after the death of Linda Norgrove, a DAI employee who was kidnapped on September 26, 2010, in Kunar Province, Afghanistan, and died October 8 during a rescue attempt by U.S. forces. Norgrove was working on the Incentives Driving Economic Alternatives for the North, East, and West Program. The foundation has distributed more than £1 million to projects that support education, health, and childcare to women and children affected by the war in Afghanistan.
In light of COVID-19, this year DAI will fundraise through a trivia event, a virtual 5k run, and online classes on a variety of topics such as conversational Spanish, cooking Indian dishes, yoga, and photo editing. Proceeds from the 2020 fundraiser will provide scholarships for young Afghan women to study midwifery. The foundation has already received 70 applications; selected students will study at Resalat Noor Institute of Health Science for two years to qualify as midwives.