January 06, 2020
DAI is pleased to welcome to the firm Eric G. Postel, a development industry leader with a distinguished record as a public servant and as a private sector executive focused on emerging and frontier markets. Postel's wide-ranging career encompasses pioneering work in development finance, impact investing, clean energy, and trade and investment facilitation, among other achievements, and spans more than 70 countries.
As Principal Development Advisor, Postel will engage DAI's clients and stakeholders at the highest level, develop and support the execution of our strategy in particular countries and technical areas, and work on DAI development projects around the world.
"I am proud to be joining a mission-focused company that has a long history of helping people improve their lives," said Postel, who assumed his new responsibilities January 1. "International development must be—and increasingly is—a public-private collaboration toward a common good, and I look forward to bringing my insights from the commercial and government spheres to DAI's endeavors."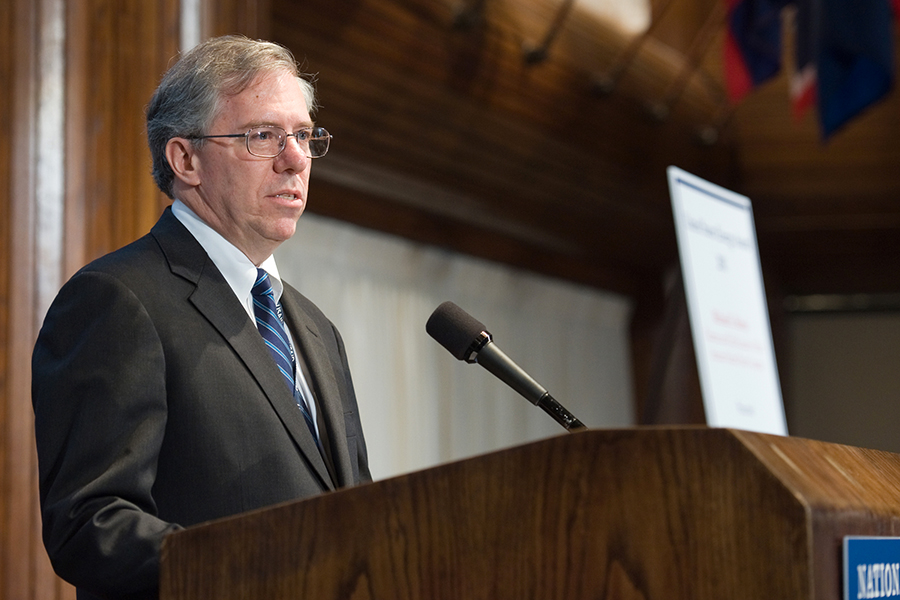 Eric Postel in a 2011 speech.
After working in the private sector for more than 25 years, Postel was asked to serve in senior leadership positions with the U.S. Agency for International Development (USAID) from 2011 to 2017 to help improve development effectiveness. In the final two years of his tenure, as Associate Administrator, he took on the interim role of Acting Deputy Administrator. As Assistant Administrator for the Africa Bureau (2014–2015), he led agency operations in Africa, notably including creation of the Bureau's Ebola Unit, which managed USAID recovery efforts in Guinea, Liberia, and Sierra Leone, and supervision of Power Africa—the U.S. Government's initiative, of which he was one of the designers, to support private sector clean energy projects that expand access to electricity on the continent.
As Assistant Administrator for the Economic Growth, Education, and Environment (E3) Bureau—a position he held throughout his time at USAID—Postel led an organization that provided technical leadership to 100 USAID offices across 14 subject matter areas. He particularly championed domestic resource mobilization as a means of assisting developing nations on their journey to self-reliance, and he played a key role, accordingly, in adoption of the Addis Tax Initiative.
Prior to his stint with USAID, Postel spent more than 25 years in the private sector as a Senior Partner at Pangaea Partners, a Madison, Wisconsin-based company he founded to provide investment banking and financial consulting services in emerging markets; as Director of Venture Investments for CleanTech Partners, which provided capital to inventors of clean energy technologies; as the CFO of Infigen, a biotech company; and as a Vice President of Citibank in Tokyo and New York.
"Eric has that rare combination of attributes that allows him to see the big picture but also make big things happen," said DAI Senior Vice President for Strategy Jean Gilson. "He's universally respected as a strategic thinker and a hands-on leader, and I'm delighted he's joining our team."
An officer for four years in the U.S. Navy, Postel holds a bachelor's degree in mathematics and economics from Wesleyan University and earned his M.B.A. at Stanford.