October 07, 2019
The U.K. Department for International Development's Women for Health Programme (W4H) has published a new report reflecting on the progress and lessons learned over seven years of improving women's health and supporting women health workers in northern parts of Nigeria where female nurses and midwives are desperately needed.
Women for Health: The Journey charts the evolution of the W4H programme in six states of Northern Nigeria, including the transformation of health training schools and the expansion of access to education for rural women who dream of becoming nurses and midwives to support their communities.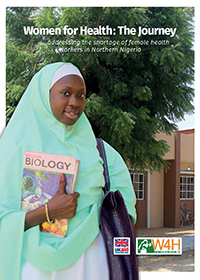 "This report focuses on W4H's concrete achievements with an emphasis on the factors critical to success," said Team Lead Fatima Adamu. "It builds on the lessons learned over many years of implementation to lay out the next steps in our journey as we look to scale future initiatives in this important area."
Strong partnerships with regulatory bodies, legislators, government officials, health training institutions, and communities have been central to W4H's success. By enabling state governments to better understand the barriers faced by women in accessing health training and the importance of training institutions, these partnerships have paved the way for increased state ownership of the programme.
The transformation of health training institutions has in turn increased local capacity to train female health workers. Through the provision of resources and technical assistance, W4H has supported schools in gaining, maintaining, and increasing their accreditation. Whereas only one school was fully accredited at the start of the programme in 2012, now there are 20 fully accredited schools and a further five with provisional accreditation. In addition, with W4H's support, Nigeria's regulatory bodies have granted permission for the establishment of private colleges of nursing and midwifery, with two now launched in W4H states—the first private nursing colleges in the country. Overall, six new schools have been established in W4H-supported states. Importantly, the schools have implemented gender management plans which address many of the barriers to women's participation.
Engagement with communities—including families, fathers, husbands, religious leaders, and the women themselves—has been another key to success. Women attend the reinvigorated health training institutions with the encouragement of their community, and there is a sense of pride when those women return home to practice in their communities. As role models, they encourage other women in their community and raise the status of women more broadly.
The report also touches on W4H's Foundation Year Programme (FYP), which enables rural and disadvantaged women to access training by investing in their academic, personal, and social capital. Women who participate in the FYP have been able to gain the academic credits needed to train in the mainstream nursing, midwifery, or health worker courses, where previously their disadvantages—manifested in lack of sufficient academic grounding—would have prevented them qualifying for the schools of nursing and midwifery.