May 22, 2023
New acquisition complements existing business lines in corporate finance and asset management, consolidates regional presence in South and Southeast Asia.
DAI today announced the addition of a specialized project finance company to its growing DAI Capital business. Based in Australia, the project finance company—previously doing business as Alinea Impact Capital—has a record of developing and financing infrastructure projects in the healthcare, water, and renewable energy sectors, including current projects in India and Indonesia.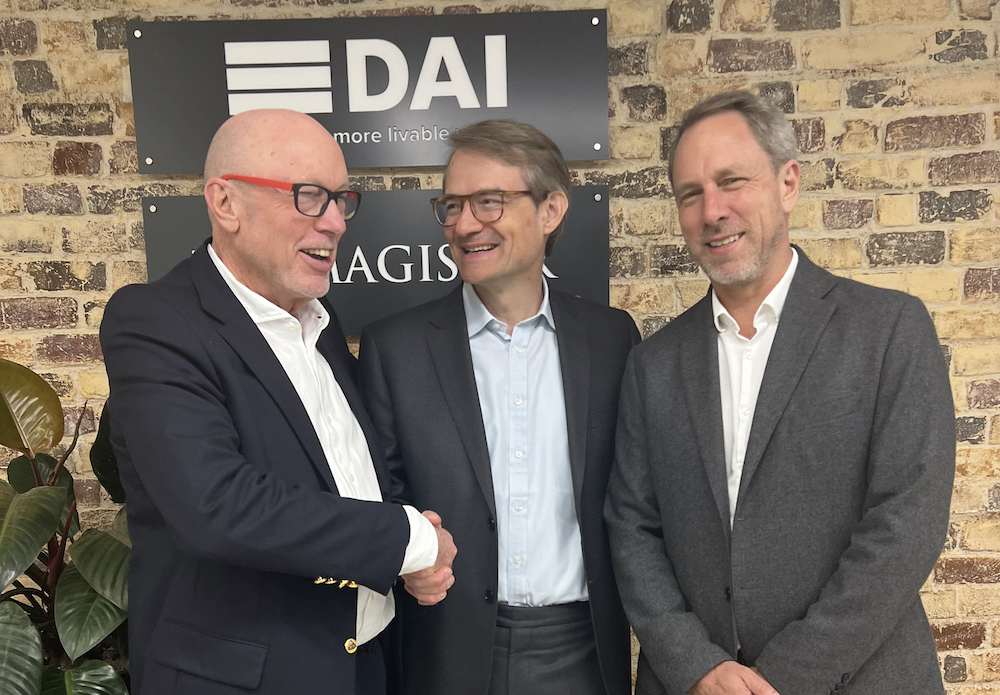 From left: Stephen Moss, Gavin Wilson, and Scott Roantree.
DAI Capital offers a multiproduct financial services platform focused on mobilizing and deploying private capital to spur sustainable development in emerging and frontier economies. To date, the DAI Capital platform has been based on two core pillars: a corporate finance business that helps companies raise capital, and an asset management business that makes investments.
"The addition of a third pillar focused on project finance continues the build-out of the DAI Capital business in a way that strengthens and deepens our capabilities, taking advantage of DAI's global footprint," said Gavin E.R. Wilson, Chief Executive Officer of DAI Capital.
In 2020 DAI acquired a majority stake in Magister Advisors to form DAI Magister, a corporate finance and M&A advisory business. In 2021, DAI added a second pillar, in the asset management space, with its acquisition of MicroVest Capital Management, a leading private credit investor in responsible finance institutions.
"The multifaceted team Gavin is assembling adds another powerful dimension to our mission of shaping a more livable world," said DAI President and CEO Jim Boomgard. "DAI Capital is bringing world-class financial acumen to the task of channeling private investment to the places that need it most, leveraging the talent, knowledge, local relationships, and global reach of the broader DAI network and our 50-plus years of experience driving economic and social development."
The new project finance business will be led by Stephen Moss and Scott Roantree, who will serve as Executive Chair and CEO, respectively, of DAI Capital Pty Ltd, based in Australia. Both Moss and Roantree bring to the firm decades of experience in investment mobilization and international development.
"We are delighted to be joining DAI," said Dr. Moss. "Most importantly, DAI shares our commitment to the spirit of the Sustainable Development Goals and our conviction that the greatest opportunity for advancing global development and climate action lies in accelerating the provision of private capital to emerging and frontier markets. We can't wait to lend our insights, our experience, and our networks to that effort with DAI, initially in our own neighborhood of South and Southeast Asia, and eventually all over the world."