September 05, 2018
DAI today announced that Brigit Helms has been appointed Vice President for Technical Services. An authority in the fields of financial inclusion, development finance, and economic growth, Helms will lead the multisectoral Technical Services team and ensure its continued commitment to technical excellence and innovation globally.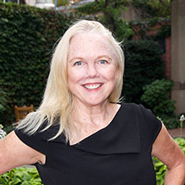 Helms has 30 years of experience in international development, with a focus on delivering innovative, market-based solutions to complex development problems. She has worked and lived in more than 35 countries in Africa, Asia, and Latin America. She is known as a skilled facilitator and avid student of the latest thinking on teamwork and organizational transformation.
"This is a critical leadership position for DAI," said company President and Chief Executive Officer Jim Boomgard. "Brigit has a compelling vision for a Technical Services team aligned around the biggest strategic challenges facing the world today—many of which cross development disciplines and all of which require new and creative thinking if we are to make headway on a global scale."
Helms joined DAI after leading the Multilateral Investment Fund, an innovation lab of the Inter-American Development Bank that made investments equaling $85 million a year. She served as Chief of Party of the SPEED program in Mozambique, leading DAI's work to improve the country's business environment and economic competitiveness. She also worked at McKinsey & Company in Seattle, Washington.
Prior to joining McKinsey, Helms was CEO of Unitus, a nonprofit with offices in Seattle; Bangalore, India; and Nairobi, Kenya. Before that she spent four years with the International Finance Corporation in East Asia.
Helms was a founding management team member of CGAP, the global center of excellence for financial inclusion, which published her first book, Access for All: Building Inclusive Financial Systems. She has spent the past year at DAI researching and writing a companion volume to that book, expanding its lens from financial to more broadly economic inclusion. Access for All: Building Inclusive Economic Systems will be released this fall.